RLA mourns the passing of Dr. James P. Smith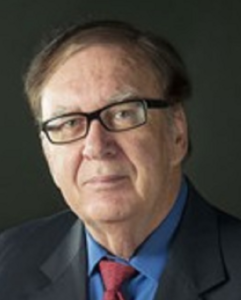 August 2022—James Patrick Smith, PhD, died in Santa Monica, Calif., on August 4, 2022, following a heart attack he experienced on July 17, 2022.
Dr. Smith was a renowned economist who served as both a Senior Economist (1974-2020) and Director of Research on Labor and Population (1977-1993) for the RAND Corporation, where he also held the Distinguished Chair in Labor Markets and Demographic Studies. Dr. Smith published widely on topics ranging from education to immigration to wealth inequality. More recently he authored numerous widely cited studies on health outcomes and economic status worldwide.
Together with Dr. Richard Suzman, Dr. Smith assembled the scientific and financial support to create the Health and Retirement Study (HRS) to enable data collection that would advance researchers' understanding of the challenges and opportunities of aging. Dr. Smith chaired the HRS Data Monitoring Committee for 30 years (1991-2020) and advised numerous HRS partner studies around the world. In 2020, he joined Rose Li & Associates as a Senior Research Associate and continued to contribute to the field through his original research and leading harmonization activities of HRS partner studies.
Jim was a mentor and friend to many, generously giving of his time to promising junior investigators. He will be remembered for his sense of humor and his love of Ireland, the country of his parents. He traveled the world for work and pleasure enjoying good food, fine wine, and the company of his family and the many colleagues who were also his friends.
Dr. Smith held a BS in Economics from Fordham University, a PhD in Economics from the University of Chicago, and honorary doctorates from the University of Stirling, Scotland and Trinity College Dublin, Ireland. He received many honors throughout his career, including election to the National Academy of Medicine in 2011, the Ulysses Medal from University College Dublin in 2009, the Albert Nelson Marquis Lifetime Achievement Award in 2018, and two National Institutes of Health Merit Awards for his research from 1995-2018.
Dr. Smith is survived by his wife, Sandra Berry, and his daughters, Lauren Smith and Gillian Pet, son-in-law Mitchell Pet and grandchildren Theo and Lydia Pet.

The following selected tributes to Dr. Smith are provided by his colleagues from the Health and Retirement Study international family of longitudinal aging studies.


It is my saddest moment to read the news of Jim Smith's death. He is the important mentor of the Health, Aging, and Retirement in Thailand (HART) project in Thailand. Jim, Dr. Richard Suzman and Bob Willis were great supporters when we started the pilot HART back in 2007 after I helped organize the Harmonization Meeting in Chiang Mai. Jim had always provided practical answers and suggestions to the HART project whenever we faced any technical problem. We will miss his generous assistance and advice. 
—Dararatt Anantanasuwong, National Institute of Development Administration

The Northern Ireland Cohort for the Longitudinal Study of Ageing (NICOLA) study team benefitted considerably from Jim's vision and enthusiasm in the early days, and we are very saddened indeed to hear of his passing. A true gentleman!
—Frank Kee, Queen's University Belfast

It is very sad to hear of Jim's death, his disappearance represents a great loss to the HRS network family and the scientific community. Jim had recently taken the initiative to promote the Study of Health and Aging in Uruguay (ELSE Uy) project, which motivated us to continue working to carry it out.
—Fernando Bertolotto, Universidad de la República de Uruguay

My colleagues in the China Health and Retirement Longitudinal Study (CHARLS) and I are greatly indebted to Jim and saddened by his death. He and Richard initiated CHARLS back in 2006. Jim was our advisory committee chairman, supported us, and advocated for us all the years. He understood our constraints and offered his wisdom whenever I asked. He was a dear friend and mentor to many of my colleagues and me. One day before his heart attack, we were planning for a mini advisory committee meeting and working on a joint paper. He will be forever remembered by the CHARLS team, and his legacy will carry on by more than 60,000 CHARLS users worldwide.
—Yaohui Zhao, Peking University

We are deeply sorry to hear of Jim's passing. He was a great supporter of Healthy Ageing in Scotland (HAGIS). Along with Richard Suzman, he persuaded us to establish a longitudinal study of ageing in Scotland, i.e., HAGIS. Although he did not have a Scottish passport, he always emphasised our Celtic links and supported us in many ways. We owe him a huge debt.
Jim was the personification of the HRS family.
—David Bell and Elaine Douglas, University of Stirling

We were fortunate to have Jim's friendship, mentoring, guidance, and support in the Mexican Health and Aging Study (MHAS) for the last 20+ years. He was supportive of our efforts through difficult times at the beginning and celebrated with us the later successes as well. Jim was instrumental, and along with Richard Suzman, had the vision of this sisterhood of national longitudinal studies. Jim was focused and persevered with the harmonization endeavor one country at a time.
We at the MHAS will miss Jim dearly as our friend and colleague. Always a gentle presence, his greatest joy seemed to be to see the sister studies all gathered, talking to each other. I hope we can get together soon to honor his legacy.
—Rebeca Wong, University of Texas Medical Branch

As for most of the HRS family of studies, Jim was instrumental in the development of the Brazilian Longitudinal Study of Aging (ELSI-Brasil) and we were very lucky to have his support, guidance and friendship. He has left a great scientific legacy and will be missed!
—Fernanda Lima-Costa and Cesar Messias De Oliveira, ELSI


Jim Smith was a friend and leader to all of our studies. He particularly valued his Irish heritage and citizenship and did so much to promote Ireland whenever he had the opportunity. He was always engaged with the wider circle of his colleagues' families and world. He leaves a great legacy in the harmonised family of ageing studies as evidenced by the broad community above.
Ar dheis Dé go raibh a anam dílis.
—Rose Anne Kenny, Trinity College Dublin

We in the English Longitudinal Study of Ageing (ELSA) team are greatly saddened by this news. Jim was a staunch supporter of the study, was wise in his counsel, and enjoyed very strong links with many researchers here, particularly colleagues at the Institute for Fiscal Studies. In past years, he regularly spent several weeks in London working on cross-national analyses, always using his favourite hotel, eating at his favourite Indian restaurant, and so on. His support in helping navigate the funding systems at the National Institute on Aging was particularly valuable to me personally when I was new to the processes. He will be greatly missed by the English, even though as Rose Anne Kenny and David Bell have noted, he took pride in his Celtic ancestry.
—Andrew Steptoe, University College London


It was with tremendous sorrow that I heard this news last week. Jim was a very good friend, colleague and mentor to many of us.
In 1989 Jim recruited me to RAND's Labor group, which he headed for many years. This was a truly professional changing experience. At this time Jim spearheaded starting the Indonesia Family Life Survey (IFLS) in 1993, which I later took over in 1999. Jim as most of you know was the main force in starting CHARLS starting in 2006. I was very fortunate in being part of the group responsible for starting CHARLS, with Jim and Yaohui Zhao.
Throughout my later professional life, Jim was a major force in giving guidance and advice, as well as a good friend. I will miss him terribly.
—John Strauss, University of Southern California

The Longitudinal Ageing Study in India (LASI) team is deeply saddened by the news of Jim's passing. His vision, guidance, encouragement, connections, savvy, and gravitas were instrumental to the design and implementation of LASI and to so many of the insights garnered from the collection and analysis of LASI data. Jim was a superb labor and population economist and a good friend. His deep commitment to showing up whenever needed set the tone for the HRS family, and is now a key part of its bedrock.
—David Bloom, Harvard University

Jim Smith has immensely contributed to the design and implementation of LASI. I remember his many visits to India to attend and guide the LASI activities as its chair of the International Advisory Council. His vast expertise, networks and persuasive skills were of great support for LASI and even impressed senior government officials in New Delhi. He was really thrilled when LASI covered 73,000 older adults in its first wave in 2017-18.  As we are about to initiate the second wave of LASI survey this year, we will miss his advice and support.
—T.V. Sekher, International Institute for Population Sciences

Many of us in South Africa got to know Jim later than others—yet his unshakable certainty we were on the right track—and that newly democratic South Africa coupled with sub-Saharan Africa are vital contributors to the HRS sisterhood was inspirational.
In planning for the 2019 sister studies gathering that convened in Johannesburg in October 2019, his recounting of previous meetings and their national impacts made it a 'must do'… and it was during that meeting that the prospect and potentials for a BRICS sub-grouping emerged.
Jim's spirit infuses Health and Aging in Africa: A Longitudinal Study of an INDEPTH Community in South Africa (HAALSI) efforts. And his humour leavened it all!
—Steve Tollman, Lisa Berkman, Kathy Kahn, Tom Gaziano, and the entire HAALSI team

The Japanese Study of Aging and Retirement (JSTAR) team would like to express deepest sorrow and condolences for the loss of Prof. Smith. JSTAR owed much support and encouragement from him until today. We miss him dearly. Let us keep going with the project to follow his legend and beyond.
—Hide Ichimura, Haruko Noguchi, and Hideki Hashimoto, JSTAR